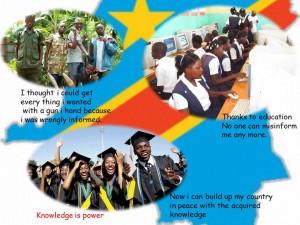 Did you know that your existing PC can make the world a good place to live in, it can prevent many children from being recruited by guerrilla groups, it can help to prevent rape against women, that it can give hope to many people?
It is said that people perish for lack of knowledge. You know this very well.
You can make a difference!
We, Congolese Youth empowerment (C.Y.E), are a voluntary organization working to strengthen Congolese youths' knowledge through training and guidance.
We are working in areas in war and war torn areas. We want to prevent further recruitment of youths as child soldiers. We want to prevent them from raping women and children. We want to give back hope to young generation in DR. Congo.
The only way to do that is to train, guide and enrich these young people with the right kind of knowledge.
When the state leaves youngsters to itself, it becomes easier to recruit them to the guerrilla groups. Therefore, we want to do something about these young people to prevent such recruitments. When young people are enlightened, and have the knowledge, it becomes difficult to be misguided and impossible to send them to perform heinous acts.

C.Y.E collects used laptops and PC screens and send them to the Republic Democratic of Congo.
Some PCs are to be provided to schools and part of it is to be used in youth centers. At the centers young people are to be trained in different data utility applications, including Microsoft office.
They will also have the opportunity to read news online and will be able to brows information. In this way they will acquire new knowledge.
You may think that your help is small but it poses big difference and helps to improve life of many people.
Your PC can prevent the recruitment of child soldiers and can prevent more women from getting raped. It can give hope to many helpless youngsters.

Your contribution is most welcome!