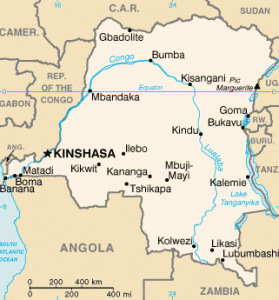 The Democratic Republic of the Congo (French: République démocratique du Congo ), also known as DR Congo, DRC, Congo,Congo-Kinshasa, DROC, or RDC (known as Zaïre 1965–97), is a country located in Central Africa. It borders the Republic of the Congo, the Central African Republic, and South Sudan to the north, Uganda, Rwanda, Burundi and Tanzania to the East, Zambia and Angola to the south and the Atlantic Ocean to the west. It is the second largest country in Africa by area and the eleventh largest in the world. With a population of over 75 million,  the Democratic Republic of the Congo is the most populous officially Francophone country, the fourth most populous nation in Africa and the nineteenth most populous country in the world.
DR Congo is one of the countries which has never seen the down of its day since its formal existence. The country has been through atrocities of different sorts since the colonial period. Nevertheless, the country has also gotten some help from goodhearted countries from abroad through NGO and some governments. Congolese themselves have tried to help their country without success due to suffering and mare ignorance of the sources of the problems surrounding and inflicted to them. The new generation has kept on suffering and the future generation doesn't seem to have a hope. Some of our fathers have lost hope, and some of new generation in the country as well. Nevertheless, part of our generation which happened to be helped in these developed countries decided to look at our situation in an other angle: "'There is always way where there is willing"'.
By looking at the past, we can easily come to a simple conclusion showing that "'No foreigner will give a bright future to our country if we, Congolese, do not work hard and prepare that bright future." This knowledge we got it here, in the countries which gave us refuge. None of these developed countries is where it is without the hard work of its past countrymen. We (foreigners as well as natives) are enjoying the hardwork of the veterans and, together, we protect what those men have worked for.
This inherited spirit has brought us to create this organisation to give hope to this hopeless generation in Congo. It is this spirit of economical self reliance and security of future resources we want to plant in the new generation which is the hope of tomorrow's Congo. We want to help them with what we have learnt here and together build and save the innocent generation of this country. It's no more time to just give a fish and leave them die, but time to secure them from tomorrow's incidents and make sure that they can keep and make "'a fish"' by themselves for tomorrow. Financial help is very important tool to save a society, but the reality has proven us wrong by JUST sending million of money to our poor people. It's clear that the kind of help needed goes beyond just money.
They need you to help them to know how to make, secure and utilize money locally for their best. Otherwise we can just be as conscious as a person seeing someone dying in a deep pit and throwing food down to him instead of throwing a rope to pull him out of it. This needs efforts of many Congolese and even Norwegian with willing to save the future of this young Congolese generation by teaching it how to be come autonomous and how to assure their future through practical projects so that their eyes may turn from corruptions, wars, and human rights vio lence to start considering building and protecting their country,human rights and environment which has an impact to the global world climate.